BOBBIE DOGS ALL NATURAL PET TREATS
ALL OUR TREATS ARE MADE IN-HOUSE, BY US.
NO PRESERVATIVES
NO FILLER
NO GRAIN
NO ADDITIVES WHATSOVER
JUST SINGLE INGREDIENT PET TREATS
+
fun handmade accessories made by talented 2-legged's from around Australia
VIEW OUR RANGE OF PET TREATS HERE
**NEW PRODUCT ALERT** LARGE KANGAROO JERKY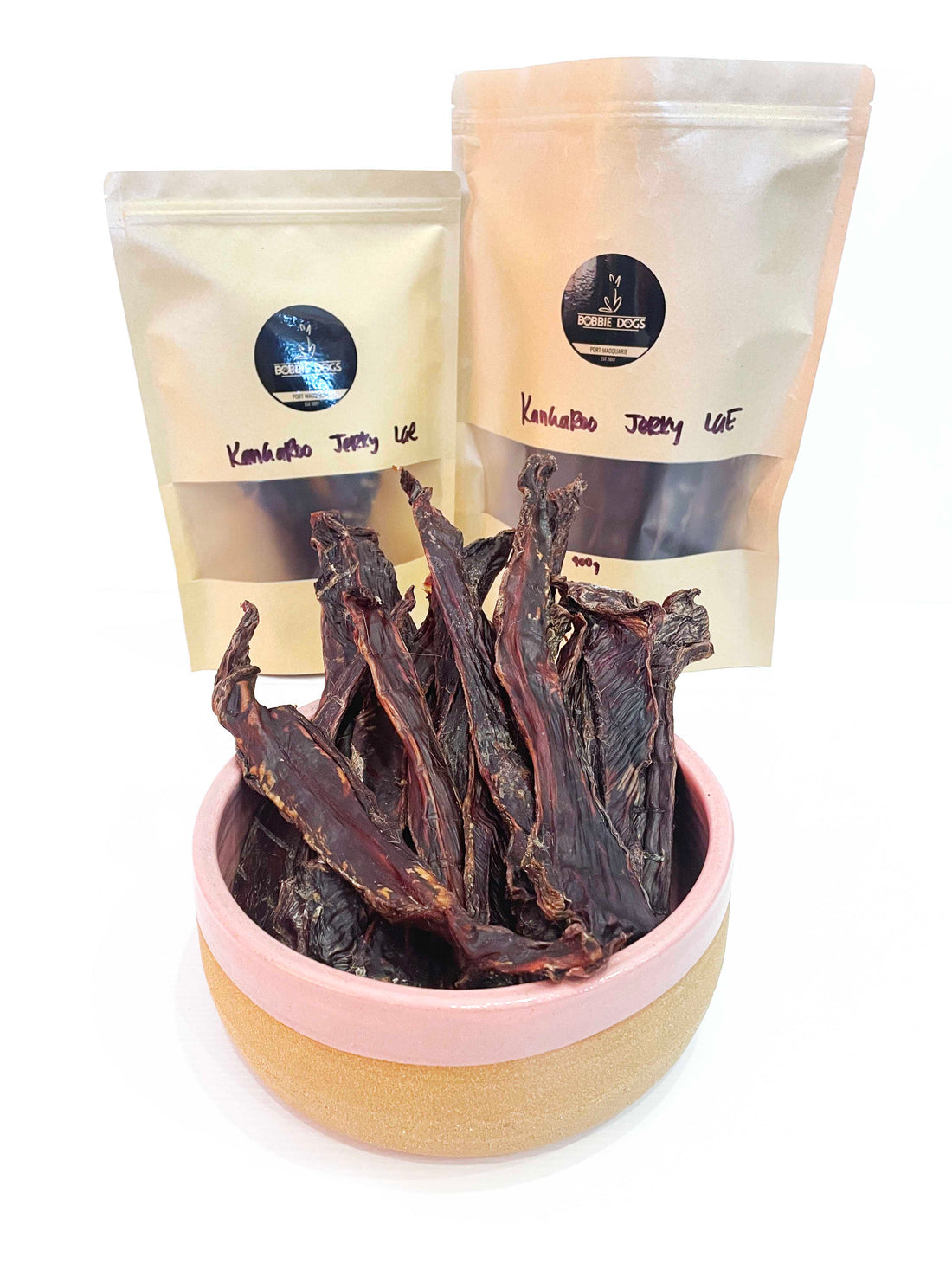 Organic  LARGE Kangaroo Jerky for Dogs
NEW to Bobbie Dogs Kangaroo Range is LARGE Kangaroo Jerky.  A large thicker chew averaging 20-30cm in length per piece. Give as a whole treat as this chewy kangaroo morsel is hard to break apart, perfect to give as you are leaving the house. Like all our Organic Kangaroo treats, our large Kangaroo Jerky is full of iron and protein with very little fat content, making it such a great red meat source to include in their daily diet! These would also make a great long-lasting chew for small breeds!
What is the diff between this and our Kangaroo Rump?
Our Kangaroo Rump is made using the whole Kangaroo Rump (premium export quality cut) and perfectly slicing each piece. After slicing it ends up much thinner and easier to break apart. Obviously suitable for all dogs but especially great for reward training or perfect for small dogs or breeds such as greyhounds with gentler narrow mouths.
Our new Kangaroo Large Jerky is made using a cut of trim which comes in larger pieces and ends up very chewy after dehydrating. Great for when you need a chewer for getting out the door or a longer-lasting chew for smaller dogs. Also great for your wallet! Our new large jerky is added to our VALUE RANGE.
All of our Kangaroo Treats are 100% Bone-Free

More Nutritional Benefits of LARGE Kangaroo Jerky for Dogs

Whilst being high in protein, kangaroo meat is also very low in fat compared to other red meats. It has almost no saturated fat, is higher in iron than other meats, and has high levels of vitamin B12 and B vitamins. With an extremely low-fat content, you can give Kangaroo Jerky to dogs suffering from diabetes, pancreatitis, other stomach issues or weight issues.
Large Kangaroo Jerky is also ideal for dogs suffering from skin allergies and stomach sensitivities. Preservatives and additives are widely known to cause allergic reactions. If you are looking for an organic dog treat alternative that contains no harmful fillers, salt, or additives our Kangaroo range really is one of the cleanest, leanest, high quality, and nutrient-dense treats you can give your dog.
Kangaroo Jerky Ingredients: 100% Australian Kangaroo Trim
NO Fillers - All our treats are single-ingredient products. NO filler of any kind! 
NO Preservatives
NO Additives
NO Grains
NO Gluten
NO Salt
NO added anything!
BOBBIE DOGS PRODUCT REVIEWS
DUCK NECKS - MY DOG LOVES THEM
There is nothing left of these crunchy and obviously delicious treats. One of my oodles can be fussy by these are instantly snatched out of the hand after a very quicky.. did you see that mum, my bum touched the floor first....now can I have please... will order these again..
SHOP DUCK NECKS HERE
Quality green lipped mussels - 5 StARS
I recently purchased some green lipped mussels from a reputable supplier whilst Bobbie Dogs were moving location and temporarily closed.
I have recently received my bag from Bobbie Dogs and you can not compare.
Out of interest I gave the dogs the option of both. They totally agreed with me and went for the Bobbie Dogs ones first. They are just so much better quality.
SHOP GREEN LIPPED MUSSELS HERE
NEW BEEF CHEWS
Both my smaller dogs really enjoy these.
One is an adult and doesn't like the chew anything too hard and he really likes these. He wouldn't chew the large beef tendons. He is 12kg
My young puppy loves these and also couldn't handle large beef tendons but demolished the mini beef tendons too quickly. She is 5kg.
Perfect for enthusiastic puppies and the more gentle small dog.
SHOP BEEF CHEWS HERE
ANIMALS IN CHARGE COTTON ROPE LEADS IN STOCK